Preserving The Legacy of Plateau Excavation while Creating Versatility
You may have started to notice a new logo being used on some of Plateau Excavation's digital items, apparel, and promotional items.
Why have we added an additional logo to our branding?
This new, linear logo allows for versatility to be applied to real-world applications such as shirts, hats, and digital graphics.

While the original Plateau Excavation logo is very detailed displaying a dozer in the center, the new, secondary logo is more modern and simpler.
The new, secondary logo was designed by pulling all elements from the primary logo. From the font to the symbol, it pays tribute to the logo people know and recognize while adding a new, more versatile style for future endeavors.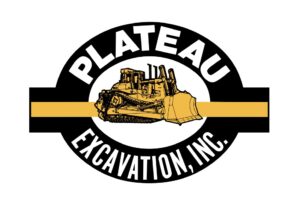 The primary Plateau Excavation logo has been around for over forty years, and we are proud to still showcase that logo today. We will always stay loyal to our roots and legacy. However, we also understand the importance of the scalability of our brand. As part of our mission statement, to move the Southeast forward, we have to continue to move our company and brand forward as well.
We strive to remain a leader in this industry in innovative infrastructure solutions and earth-moving work while staying grounded in our core values and principles.