The people make the difference. The equipment sets Plateau apart.
Our innovative people and equipment have shaped Plateau into becoming one of the top commercial infrastructure contractors in the nation. Unmatched in dedication and devotion, our team makes the difference while the expansive Plateau fleet drives us toward unparalleled success in the field. Our technologically driven and comprehensive fleet allows Plateau to complete high volumes of diversified projects, delivering results successfully and on time.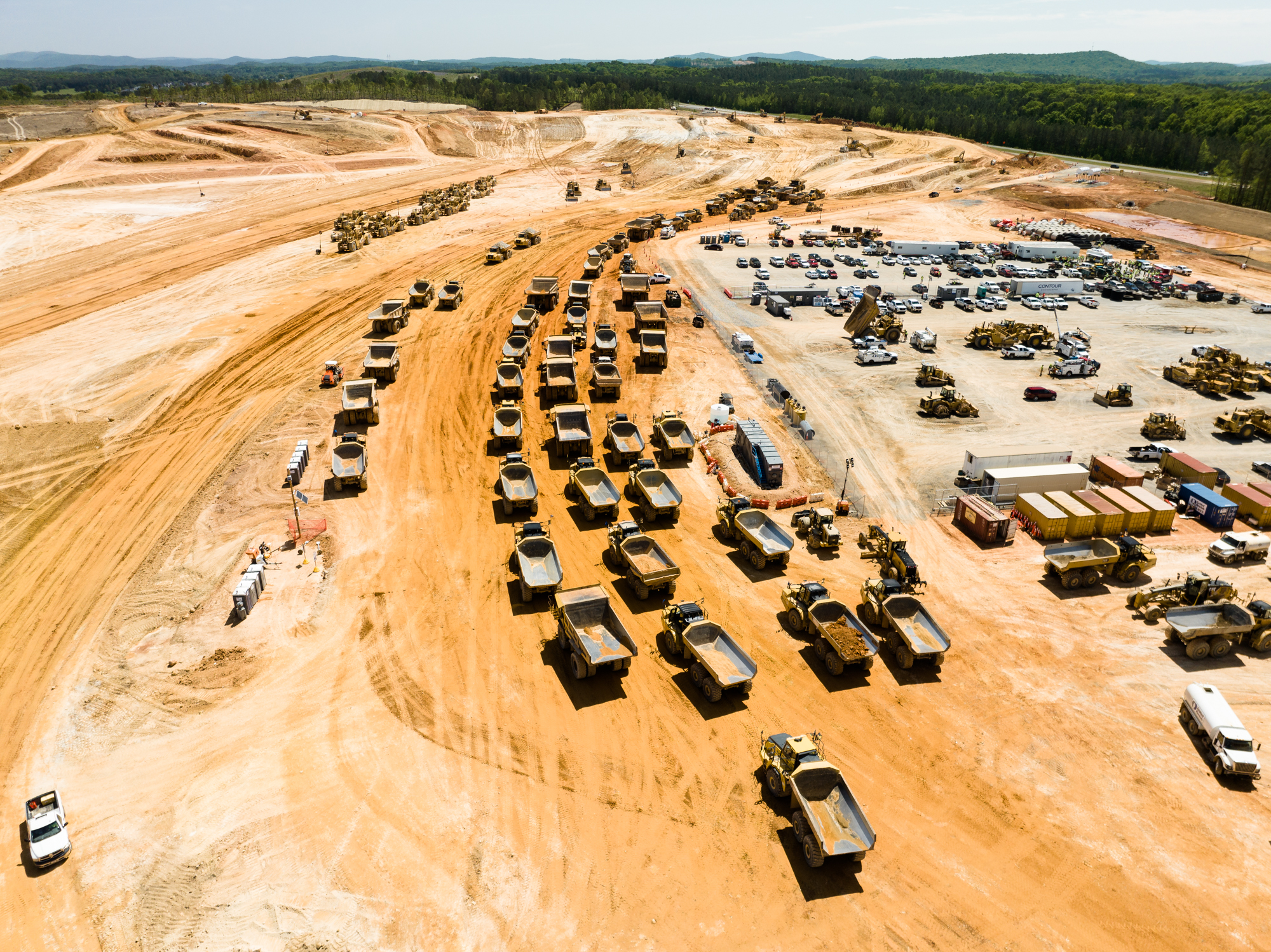 Largest fleet in the Southeast
We can really move some earth. With a fleet comprised of over 900 machines, Plateau Excavation has the largest fleet of equipment of any commercial infrastructure contractor in the Southeast. Each year, Plateau reinvests back into its fleet, continuously growing the number of machines and servicing onsite to keep equipment in its best shape, allowing us to outpace competitors in the field.
Using the advanced technology found in Caterpillar's D6 dozer, which uses GPS to help cut grades precisely down to a tenth of an inch, along with the 44-ton carrying capacity of the Komatsu KM400-5, Plateau integrates technology and mechanical strength to ensure the successful completion of all projects.
Our strong relationships and emerging technology
Our deep relationships with Caterpillar and Yancey Bros. put us in the front line to test and access the latest technology. This is also a benefit to our environment, as the majority of our equipment has the latest technology improvements that reduce emissions by increasing the efficiency of the diesel engines, resulting in less fuel consumption. In addition, we routinely test prototypes and conduct field tests for equipment aimed at reducing environmental impacts. The combination of heavy equipment machines and existing and new technology provide horsepower, efficiencies and environmental protections. One example is that of a drag pan scraper connected to the front of an articulated dump truck. This combination requires less support equipment which ultimately results in lower amounts of fuel consumed and emissions produced.
Diversified projects with dedication and drive
We have the resources to tackle complex, large-scale projects, and because of the size of our fleet, we remain committed to our client's schedule-driven demands. We start strong and finish strong.
Possessing the ability to take on projects which require excavation of over 14 million yards of earth spread over 600 acres, Plateau has become the go-to infrastructure contractor for some of the largest distribution centers in the country. This is made possible not only by solid leadership, and driven employees, but also by Plateau's devotion to their fleet of equipment. Whether it's a medium-sized job requiring skid steers and soil compactors or a complex project such as Truist Park utilizing a 385CL Caterpillar Excavator, Plateau's fleet gets the job done with precision and speed unmatched by competitors.
Interested in working for Plateau on its best-in-class fleet?
Join Plateau to see the difference.
Apply Now