At Plateau Excavation, safety is deeply engrained within our culture. Through our Safe and Sound approach, safety is more than a discussion; it's a core principle which allows the employees to make the right choices for their well-being. We work daily on planning, communicating, observing, and improving are ways to stay stronger and safer together.
"Our safety is our culture," Joseph Dudley, Plateau's Safety Director says. "It starts with field management, guys on the job every day managing crews, making safety their number-one priority." 
We celebrated Construction Safety Week with an employee photo & video contest as well as safety luncheons on a different job site each day of the week with trainings, demonstrations, raffles, and awards.
Open communication is key to having a stronger, safer workplace where we all look out for one another.
Monday, May 1, 2023: Engagement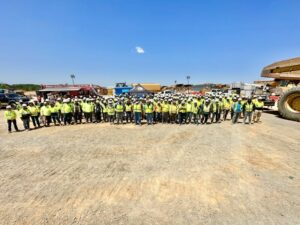 Safety is the industry's top value, and establishing a supportive culture is essential to creating a safe work environment. Feeling safe and having the power to speak up when we see something unsafe are important to our day-to-day well-being at work.
Congrats to Jason Parmer for winning day 1: engagement. He submitted photos showcasing his team feeling engaged and empowered to communicate about safety daily.
Tuesday, May 2, 2023: Risk Identification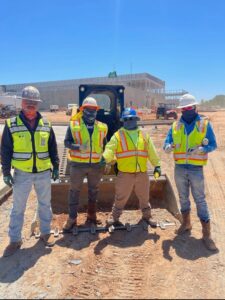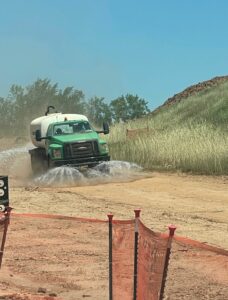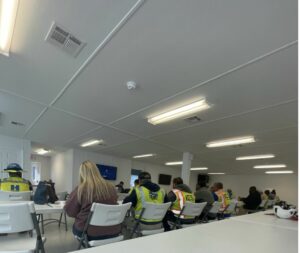 We all face risks and make mistakes every day. Most of the time, risks or mistakes don't cause us injury or harm, but on the job they can be significant. We can take three key steps to minimize exposure and harm: Knowing when we are placed in situations where errors are likely; being able to assess hazards; and identifying critical steps in our activities to make them safe.
Congrats to Jason Parmer again for winning day 2 theme: risk identification. Jason Parmer is on site as Safety Manager at one of our confidential jobs in Social Circle, GA. Jason shared how they took the steps to identify risks and stay safe today on site. "Every day, we hold a multi company hazard meeting discussing new hazards on site," said Jason, "Today's high winds, we identified the hazard of it hailing dust, so we handed out masks and ran the water truck." Thank you, Jason, for being able to assess hazards and identify critical steps in our activities to keep the team and community safe.
Wednesday, May 3, 2023: Brain Matters
The most effective tool we have is the one between our ears. Head protection has come a long way since the days of leather and canvas hard hats. Safety helmets are becoming more common and offer the most protection our industry has seen to date. If your company has not made the switch from a hard hat to a helmet, we ask that you consider it. Just as important as keeping our brains safe physically is ensuring we take care of our mental health. One in five construction workers has faced challenges like anxiety, depression, or substance abuse. Fighting the stigma surrounding mental health issues helps all of us stay stronger and safer together.
Congrats to Chad Moseley for winning day 3 theme: Brain Matters. He shared an image of the team at Hyundai – one of our crew members passed away, and each crew puts down a hard hat and raises money to get the body back to Mexico. Taking a moment to pause in the day and show kindness to the crew member of "putting the hat down" by raising money for him not only shows respect and the family-nature of our company but puts emphasis on the importance of mental health in this industry.
Thursday, May 4, 2023: Continue Learning and Demonstration Day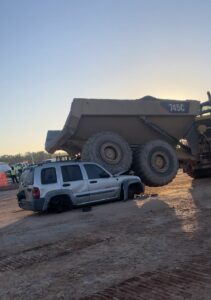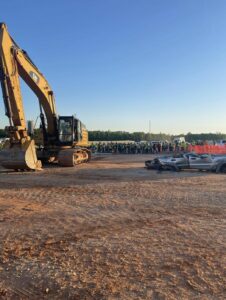 The construction industry is filled with people of different backgrounds and experiences. Our differences provide an opportunity to share lessons learned on making tasks safer and more efficient, improving our overall safety. An interactive demonstration aimed at improving knowledge and safety led by experienced crew members that encourages participation can be educational and fun.
>Congrats to John Clancy for wining day 4 theme: Continue Learning and Demonstration Day. John submitted images and videos of how we took the time to demonstrate to 600+ people on site the power of an excavator, the importance of staying out of the swing radius, giving heavy equipment plenty of room, staying out of blind spots, and the importance of spotters when backing up equipment. 
Friday, May 5, 2023: Take Action and Thank You
Every year, we have seen participation in Safety Week grow as craft workers across the country come together and commit to creating a safer working environment. As a result, our jobsites are safer today than they have ever been, and we hope our growing toolbox of resources will empower you to be a Strong Voice and make Safe Choices. We want to thank each one of you for participating in Safety Week this year. Remember, safety is, and must always remain, our top value.
Congrats to the overall construction safety week photo and video winner: Jason Parmer!
Be a Strong Voice and make Safe Choices. We want to thank our team, partners, and vendors for participating in Construction Safety Week this week. It was a fun week of safety trainings, food trucks, giveaways, and awards.
Safety is, and must always remain, our top value.